| | | |
| --- | --- | --- |
| | DIY LaserDisc & LP Massive Cabinet, Shelf, Rack | |
| | Here is a new project, that I'm working for a quite some time. I did an add-on to my B&O TV rack last year, where I store all my LaserDiscs but I kind of running out of space. Also, up until now I did not had a propper shelf for my LP's. Let's do it | |
| | | |
| --- | --- | --- |
| | Beovision MX 7000 DIY Videogame TV Rack Cabinet | |
| | Last year I got the Bang & Olufsen MX7000 TV for my retro video game consoles. In this project I'm going to show you how I'm going to make a small and compact TV console cabinet for my retrogame corner. | |
| | | |
| --- | --- | --- |
| | Building a Beast Video Editing & Post Production PC | |
| | I have build this system in october last year, but due to laziness and lack of time here comes the late "build of a beast" summary. Hope you also had a nice start in to this year! Whish you a happy new 2014!! | |
DIY LaserDisc & LP Massive Cabinet, Shelf, Rack
posted by Kaneda – on Tue. 25.December 2018



Here is a new project, that I'm working for a quite some time. I did an add-on to my B&O TV rack last year, where I store all my LaserDiscs but I kind of running out of space. Also, up until now I did not had a propper shelf for my LP's.

Talking about storing LaserDiscs and the type of shelf, that should store them, you would probably agree with me that it has to be very stable. That's why there were no other choise for me then bleach wood. And if you think right now on IKEA Kallax or Expedit .... just forget about it. In fact my first design was based on this shelfs, I just shorten the width of some section to prevent bending.

First Design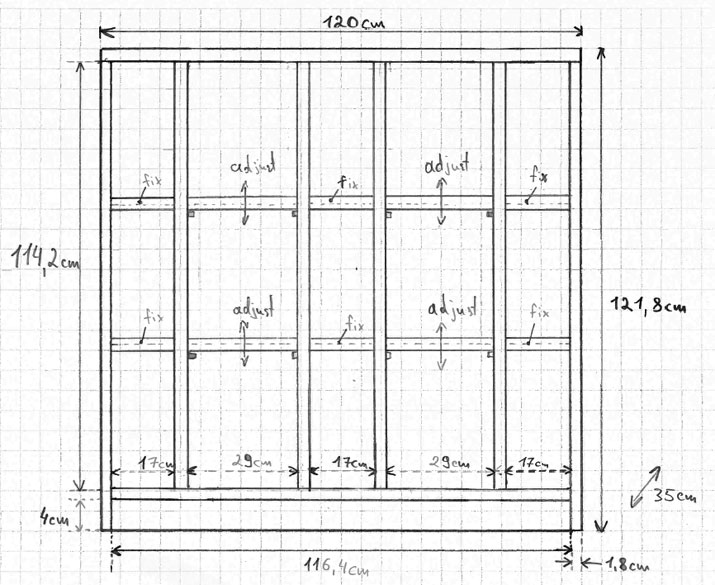 ... it's kind of functional but very borring.

Second [and final] Design




Excuse my inacurate scale on this one. The width of the center section should match the outer one. I did some other designs, but ended up with this as my final one. Here you can store heavy LaserDiscs in 17 cm sections while placing some LPs in 29 cm by adding some additional stages. 48 cm section can take audio systems, LP Player or LD Player. Or just cram that badboy full with LD&LPs.

Outer dimensions:
width: 120 cm
height: 121,8 cm
depth: 35 cm

The outer dimensions are based on the standard size of wood plates you can get at DIY market. I didn't wanted to cut a lot and the dimensions of my update to B&O TV rack left no other choise for me.

Beech wood have to dry several weeks


Continued work on dried beech wood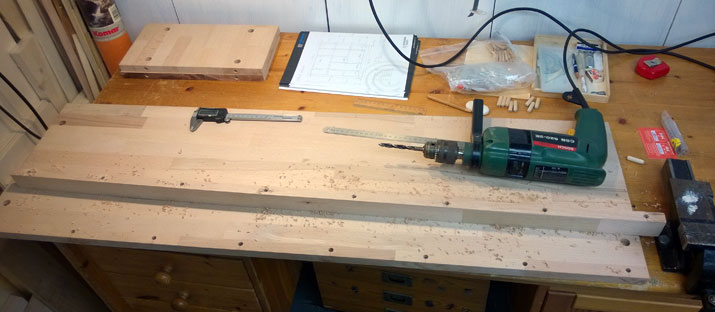 This shelf require a lot of connections. That leads to more then 100 bore-holes





Updates follows ...

« back to topic
2 comments to DIY LaserDisc & LP Massive Cabinet, Shelf, Rack
Frogger ~ on: 08.03.2019 at 17:46

Muss sagen das es irgendwie immer weniger von connichi und animagic zu sehen gibt! Ist das Team Anikaneda nicht mehr unterwegs? Ach ja dieser Arikel 13 bockmist, inwiefern betrifft das deine Beiträge in zukunft! Wird's das ganze hier nicht mehr geben? Wäre schade, denn das hier ist irgendwie ein " Link" in die vergangenheit!
Kaneda ~ on: 09.03.2019 at 07:43

Guten Morgen! :) Das Team an sich gibt es, in der Größe wie vor ein paar Jahren, nicht mehr. Ich bin einer der Wenigen, der noch zur Conventions hingeht. Schau doch mal unter "credits". Es wird aber immer wieder Berichte, Fotos & Videos aus der Vergangenheit geben, da ich noch tonnenweise unverarbeitetes Material habe. Deswegen liegst du mit dem "Link" zur Vergangenheit, nicht ganz so verkehrt ;)